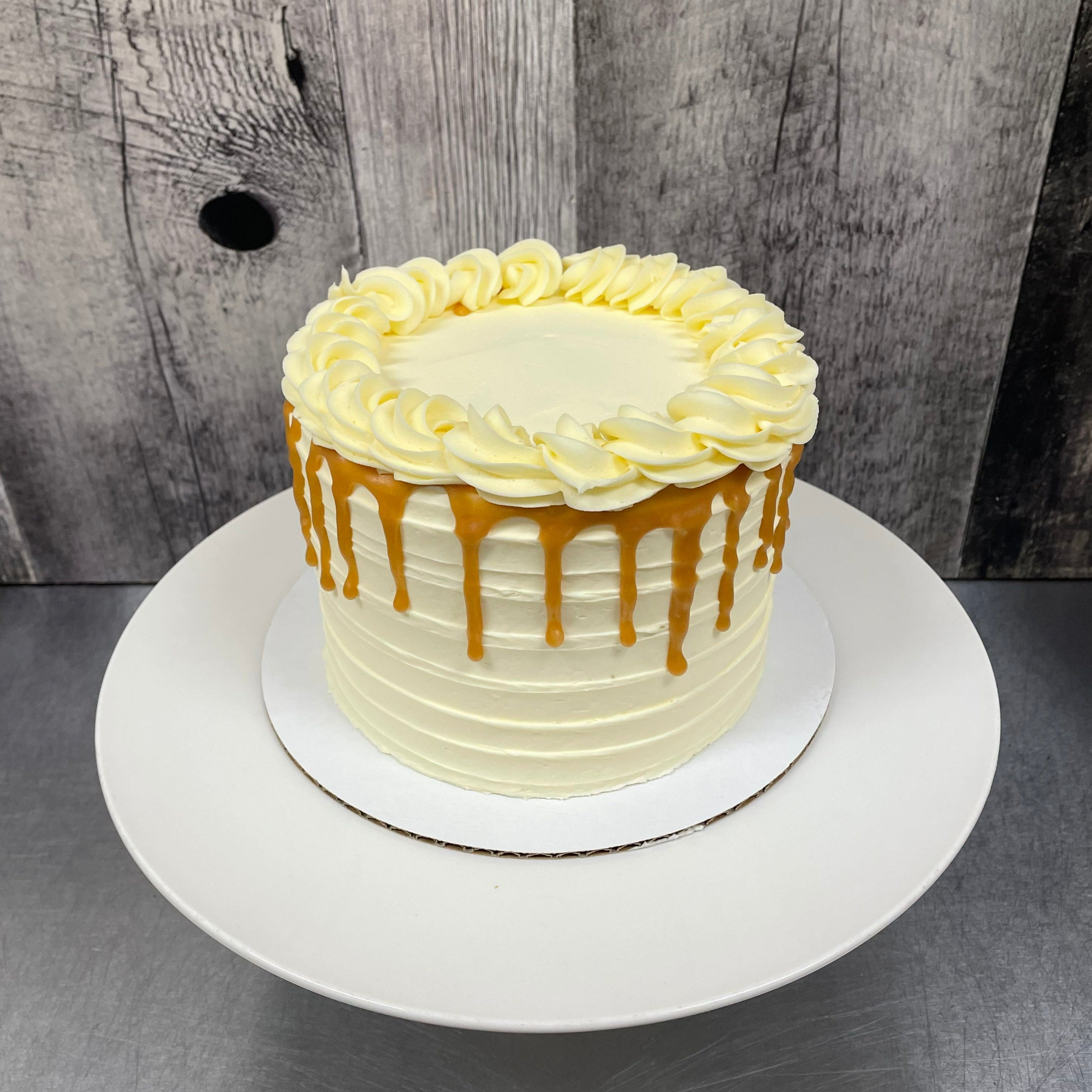 Description
Products may contain (ingredients)
Salty and Sweet; moist vanilla cake. Vanilla cake layered with our vanilla butter cream, home-made caramel and piqued with a pinch of Malden Sea Salt.
All products in our store are prepared, baked and packaged in-house. All items may contain traces of, or ingredients such as: nuts, butter, milk, eggs, gluten, soy and sugar. 
Our facility does not operate free of any of these products, and may store any of these products at any time.
We prepare many of our products without specifically using some of these ingredients. We are meticulous in our cleaning measures in order to prevent cross-contamination where possible. However, we cannot give a 100% guarantee that any of our products have not come in contact with any of these aforementioned elements.
Frequently Asked Questions
How far in advance can I order a cake?
For a Counter Cake we request 2 days' notice, although we may have one available for you sooner. For a Custom Cake order we require a minimum of 1 week's notice.
Do you deliver?
We do not currently offer delivery.
We do make exceptions, when availability allows, for delivery of wedding cakes, or large events. This will involve an additional fee.
We are currently working to coordinate with local delivery providers to set up a consistent and secure solution for deliveries of our products.
Should I keep my cake in the fridge?
Your cake is best kept at cool room temperature. As all our products are made with butter, not shortening or lard, the best flavour and moisture is attained at room temperature.
If you need to refrigerate you cake please take it out to room temperature at least 3 hours before cutting.
Can you write a message on my cake?
Yes, we can write a customized message on your cake. We can arrange this in advance, or simply do it for you upon pickup. There is no additional fee for this.
How long can I keep my cake to eat?
All of our cakes are made with butter and free of preservatives. However, our buttercream acts as a great preservative. 
Your cake can easily last up to 2 weeks if properly refrigerated and uncut. Once cut, you will want to cover the cut surface with plastic wrap, and your cake will be best eaten within 2 to 3 days. 
Your cake will always be best when eaten upon the date of pickup. If refrigerated, it is important to allow your cake to sit out for a few hours before eating to allow the flavour and moisture of the butter to return.
Do you make nut-free, egg-free, gluten-free or dairy-free products?
We do not. We can make some of our recipes without some of these products, and we are very careful about cross contamination, but we do have and work with all of these elements in our facility so cannot give a 100% guarantee to omit any of these.
Also, our recipes yield reasonably large batches, and therefore we cannot justify making a single cake or item that omits eggs, or dairy.
Do you make wedding or custom cakes?
We are happy to make custom cakes and desserts for birthday parties, wedding and other special events. Click here to visit our custom cakes page.
*disclaimer: all custom orders require a minimum of 7 days for preparation.
Custom Cakes
All of our custom cakes are prepared and baked from scratch, by hand, in-house. Customize your flavour, size and design.
Order a Custom Cake